Every morning, on the corner of Nebraska and E 17th Avenues, people gather outside the walls of Trinity Cafe. A line forms slowly at first. Folks trickle into place here or there. But as the clock nears 11:30, more and more people arrive. Suddenly, the line is dozens of people deep. 
For some, the free, full-service restaurant is a stone's throw away from home. For others, the journey is longer — an hour or two, sometimes more, by bus. But no matter where they're coming from, they flock to Trinity for the same reason: they're in search of a hot meal and good conversation. 
Here, time stops. 
Here, the stress of life, of financial strain, of homelessness, of addiction, is forgotten for a moment. 
For all the people who visit it, Trinity is a haven. A beacon of dependability in the midst of uncertainty. 
In its 21 years of existence, more than 240,000 volunteers have kept it running. And on Nov 15, the cafe reached a historic milestone: 2 million meals served to the community.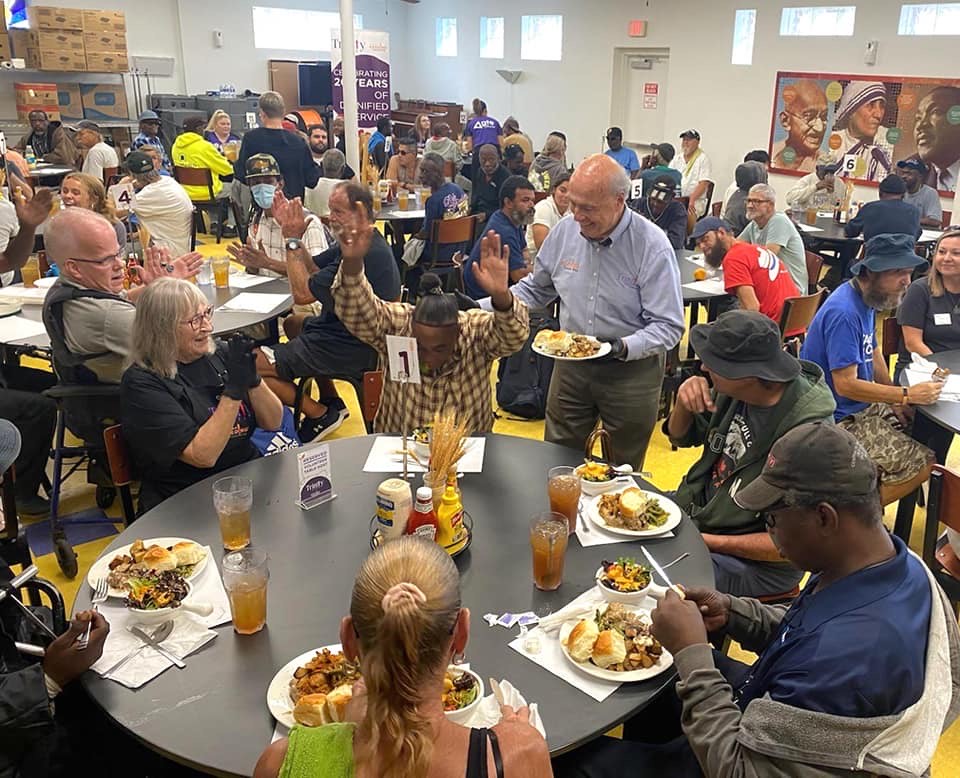 The 2 millionth meal was served at Trinity Cafe on Nov. 15. (Photo courtesy of Jeremy Gloff). 
It's a goal worthy of celebration. But it's also a driving force. A sign that Trinity must continue operating. 
"People come here and know they'll be treated with dignity and respect," says Jeremy Gloff, Trinity's Manager of Guest Experience. "That's why they keep coming back."
Gloff began volunteering at Trinity Cafe in 2014 in honor of his friend Will, who had long "called the streets his home." Will passed soon after, but Gloff continued at Trinity. He was passionate about the cafe's purpose and soon became a volunteer captain. Then a full-time employee. 
Gloff sees the value in the routine that Trinity provides to its patrons. The cafe's daily rotation of staff and volunteers have nailed that routine down to a science. Doors open at 11:30, and the first 60 people – enough to completely fill the space's 12 round tables – are seated. Two volunteers are assigned to each table. One serves the guests their food. The other engages them in conversation. It's a necessary part of Trinity Cafe's mission, and many people visit precisely for the engagement. 
"Everyone's equal when they're eating together at the table," Gloff says. 
Once a guest finishes their meal and gets up to go, the cycle starts again. Someone else in line files into the dining room. They eat, converse, and relax.
Music plays. People laugh. And the once unassuming church hall hums with life until 12:30. This happens every day without fail. 
Trinity's beginning 
In 2001, Jeff Darrey was approached by his pastor at Christ the King Catholic Church. The pastor had an idea to open a food bank in the South Tampa area, and he wanted Darrey to be at the helm of the endeavor. 
Darrey had a broader vision.
Handing out food was important, righteous even. But he wanted to create a place that satisfied people's souls too. A place where people in need were not seen as pitied, but rather as equal. A place where they would be met with dignity and a meaningful connection.
A place where they would be met with dignity and a meaningful connection.
Thus, the idea for a free restaurant was born. 
Darrey gathered a group of friends together and opened Trinity Cafe on October 15th that year. Within two weeks, he says, they were serving 250 meals per day. "The opportunity to serve was such a gift," Darrey says. "I believe it's what I – what we're – called to do."
So he did. 
The Merger
Feeding Tampa Bay had long been a partner of Trinity Cafe - often providing Trinity with the food used to make meals at its Nebraska Ave and Busch Blvd locations. But by 2017, Darrey had fallen ill, and the severity of open heart surgery forced him to think about Trinity in the long term. What were his goals for the cafe in the future? 
His mind turned to Feeding Tampa Bay, whose vision of Food for All was aligned with Trinity Cafe's mission. Plus, FTB had a much broader reach locally and nationally. 
So Darrey approached CEO Thomas Mantz with a question: 
"Would you consider seriously visiting the possibility of a merger?" 
Mantz said yes. 
Feeding Tampa Bay and Trinity Cafe officially merged in 2018. Darrey likens it to the blending of two families. Moreover, he believes the partnership was destined to happen. 
"It's totally the hand of God." 
Trinity Cafe is now a program of Feeding Tampa Bay. Since the merger, Trinity has opened a third location at the Feeding Pinellas Empowerment Center. There, people can access not only hot meals, but also social service resources, medical services, financial education courses, and more. 
The three locations are as busy as ever. 
"The opportunity to serve was such a gift," Darrey says. "I believe it's what I – what we're – called to do."
Two million meals and counting 
Gloff and Darrey both believe that Trinity Cafe's heart lies in its ability to foster genuine connections. 
Here, the line between volunteer and guest often blurs. Everyone who walks into the cafe is seen as human, deserving of a meal and of respect. 
The two million meal milestone further strengthened that idea for Gloff, who states that Trinity Cafe is "the love of my life." His eyes twinkle at the thought of it. 
"We're making a great place in the world," he says. 
Although 21 years have passed, Darrey notes that the atmosphere at Trinity Cafe feels the same as it did those first few weeks.
He remembers a time, maybe a month or so in, when he was overwhelmed with the responsibility of keeping Trinity going. 
That's when a guest approached him. A disheveled man with brilliant blue eyes that Darrey can still picture clearly in his mind. 
"I hope you enjoyed your meal," He told the man. 
The guest took both of Darrey's hands firmly in his own. He spoke to Darrey with conviction. 
"What you're doing here is God's work," the man told Darrey. "Don't ever stop it."
Fast Facts 
Between its three locations Trinity Cafe serves roughly 475 people a day and about 2,975 a week.

Trinity Cafe utilizes 77 volunteers a day - some locations aren't open 7 days a week - so the total per week is 482 per week.

Trinity Cafe opened its first location on Nebraska Avenue in 2001. Its second location opened on Busch Blvd in Spring of 2016. And its third location opened on Nov. 1, 2021 at Feeding Pinellas. 
For more information about Trinity Cafe, check out our website! The holidays are a great time to volunteer, but Trinity appreciates help year-round, especially in January!  Learn more about volunteering here. 
By Hannah Himmelgreen