National Nutrition Month celebrates the importance of maintaining a balanced diet and good exercise habits - and we want to help you make those goals an everyday priority. We know that healthy food is powerful; it heals and it gratifies our bodies and minds. So, we want to share a few of our favorite healthy recipes with you! They're easy to make and just as delicious to enjoy. 
Honeydew and blueberry parfaits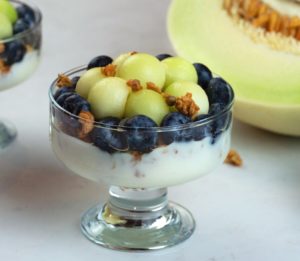 Prep: 10 Mins, Makes 4 Parfait Cups
INGREDIENTS:
1.5 Cups Nonfat Vanilla Yogurt
1 Cup Blueberries
1/2 Honeydew, melon balled
1 Cup Granola
Honey, to taste
STEPS:
1. Melon ball half of a honeydew.
2. Add a heaping 1/3 cup yogurt to the bottom of each glass.
3. Top with an even layer of Granola.
4. Line glass with blueberries, making a ring.
5. Add honeydew melon balls.
6. Drizzle honey to taste.
7. Enjoy!
Collard Greens Salad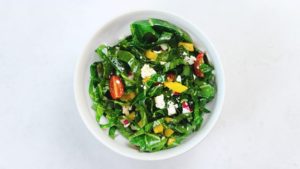 Prep: 15 mins, Total: 15 mins
INGREDIENTS:
8-10 Collard Green Leaves, chopped with stems removed
1 Yellow Bell Pepper, diced
1/2 Cup Red Onion, diced
1/4 Cup Green Onion, sliced
1/2 Cup Grape Tomatoes, halved
1/4 Cup Feta Cheese Crumbles
For Dressing:
1/2 Cup Rice Vinegar
2 Tbsp White Wine Vinegar
3 Tbsp Olive Oil
1 Tsp Garlic Salt
1 Tbsp Sugar
1/4 Tsp Pepper
1/2 Tbsp Herbs de Provence
STEPS:
1. De-stem the collard green leaves. Roll remaining leaf, and chop.
2. For the dressing, add rice vinegar, white wine vinegar, olive oil, garlic salt, sugar, pepper, and herbs de provence to a medium bowl. Mix well.
3. In a large bowl, add collard greens, yellow bell pepper, red onion, green onion, grape tomatoes, and feta cheese. Top with dressing. Toss to combine. The vinegar dressing softens the collard greens, so make sure to coat well!
4. Refrigerate salad for a minimum of an hour before serving.
5. Enjoy!
Quick and Easy Bruschetta
Prep: 15 Mins
INGREDIENTS:
5 Tomatoes, diced
1/3 Cup Basil, cut into thin ribbons
4 Cloves Garlic, minced
2 Tbsp Olive Oil
1 Tbsp Balsamic Vinegar
1 Tsp Garlic Salt
1/4 Tsp Pepper
1 Baguette, sliced
Balsamic Glaze, (optional)
Shredded Parmesan, (optional)
STEPS:
1. Preheat the oven to 400°F.
2. Slice baguette, and add slices to baking sheet. Brush each slice with olive oil, and bake for 8 mins.
3. Combine tomatoes, basil, garlic, olive oil, balsamic vinegar, garlic salt and pepper in a large bowl. Mix well.
4. Top each bread slice with bruschetta mixture, a drizzle of balsamic glaze (optional), and a sprinkling of shredded parmesan cheese (optional).
5. Enjoy!
Potato Salad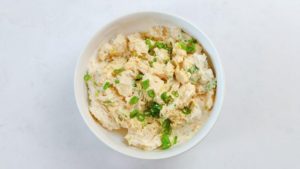 Total: 1 hr 15 mins
INGREDIENTS:
4 Russet Potatoes
4 Green Onions, Sliced
1 Cup Sour Cream
1 Cup Mayonnaise
1.5 Tsp Garlic Salt
1 Tsp Pepper
1 Tsp Paprika
Olive Oil, just to coat potatoes
STEPS:
1. Preheat the oven to 425 degrees.
2. Rub russet potatoes with olive oil until fully coated. Place oiled potatoes on a baking sheet.
3. Bake potatoes for 1 hour and 5 minutes, or until tender and soft when pierced with a knife.
4. Once potatoes have cooled enough to hold, cut each in half, and scoop out the insides into a large mixing bowl.
5. Add sour cream, mayonnaise, garlic salt, pepper, paprika, and green onions.
6. Gently toss to combine.
7. Can be served warm, or refrigerated for 2 hours and served cold.
For even more recipe inspiration, check out our Pinterest page as well!